October is Domestic Violence Awareness Month
Domestic Violence Awareness Month (DVAM) was launched nationwide in October 1987 as a way to connect and unite individuals and organizations working on domestic violence issues while raising awareness for those issues.
Find Out More
WHAT ARE WE DOING
During Domestic Violence Awareness Month, Safe Haven of Pender wants to inform and educate people about the issue with the intention of influencing their attitudes, behaviors and beliefs. Our goal is not just to raise awareness, but also to engage the public in helping us put an end to domestic violence. Throughout the month of October, you can help Safe Haven reach these goals by joining in our efforts and participating in our upcoming events and initiatives. Domestic Violence Awareness Month helps us spread the word about our free and confidential services and helps us educate our community about this widespread issue.
HISTORY OF NATIONAL DOMESTIC VIOLENCE AWARENESS MONTH
October was first declared as National Domestic Violence Awareness Month in 1989. Since then, October has been a time to acknowledge domestic violence survivors and be a voice for its victims. Domestic violence is prevalent in every community and affects all people regardless of age, socio-economic status, sexual orientation, gender, race, religion, or nationality. Domestic violence is not always physical. It often emerges as a combination of coercion and control tactics that include verbal/emotional, financial, sexual, digital and stalking behaviors. Domestic violence can result in physical injury, psychological trauma, and even death. The devastating consequences of domestic violence can cross generations and last a lifetime.
Although there has been substantial progress in reducing domestic violence, an average of 20 people are physically abused by intimate partners every minute. This equates to more than 10 million abuse victims annually. An intimate partner has physically abused 1 in 3 women and 1 in 4 men, and 1 in 5 women and 1 in 7 men have been severely physically abused by an intimate partner. Millions of Americans live in daily, silent fear within their own homes. In addition, every year millions of children are exposed to domestic violence. Domestic violence incidents affect every person within a home and can have long-lasting adverse effects on children's emotional well-being, and social and academic functioning.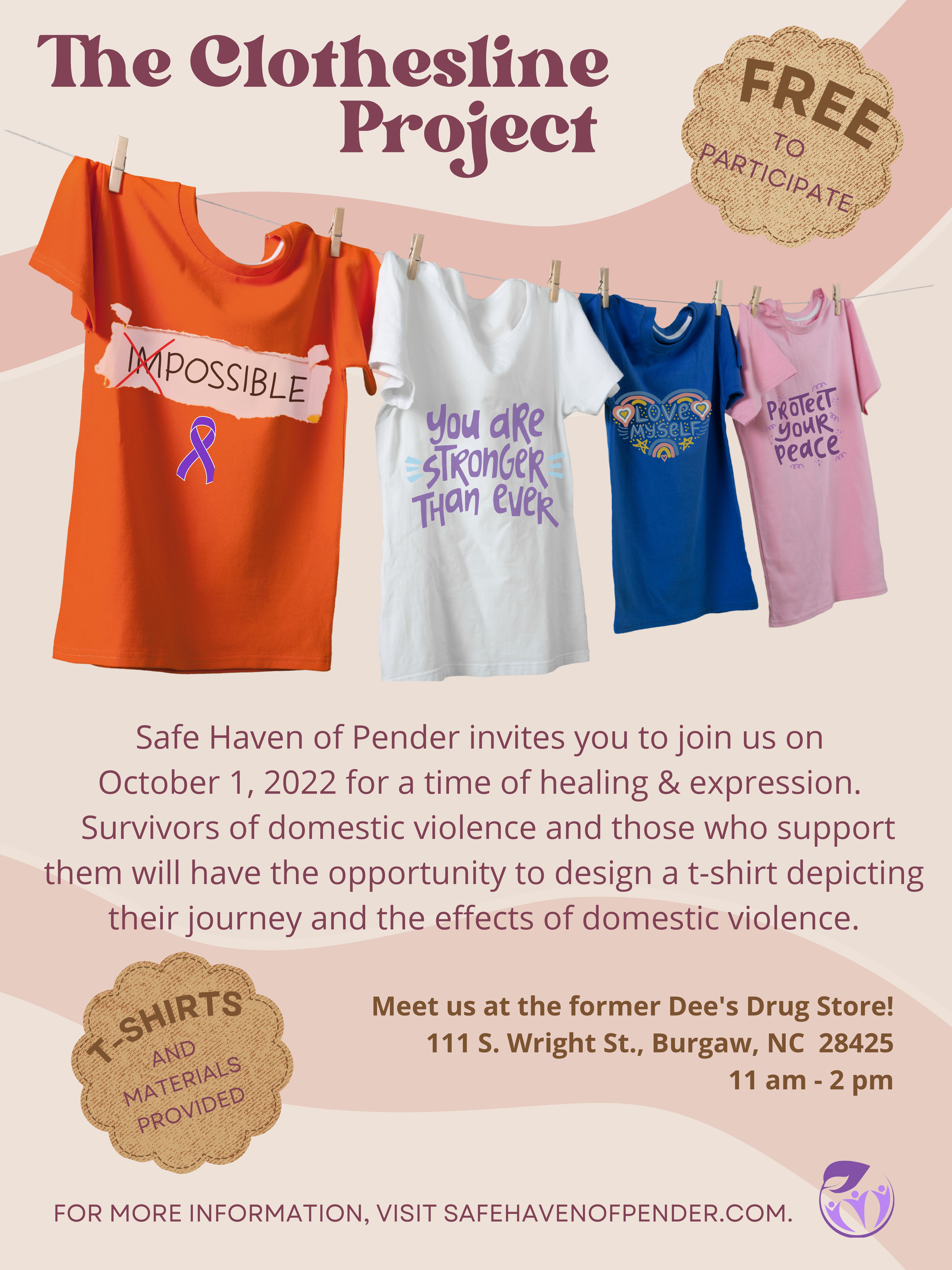 The Clothesline Project is a visual display of violence statistics that often go ignored. Each shirt is made by a survivor of violence or by someone who has lost a loved one to violence. The color of each shirt represents a different type of violence. Follow Safe Haven of Pender & Duplin Counties on Facebook and Instagram for updates on dates and times for this project.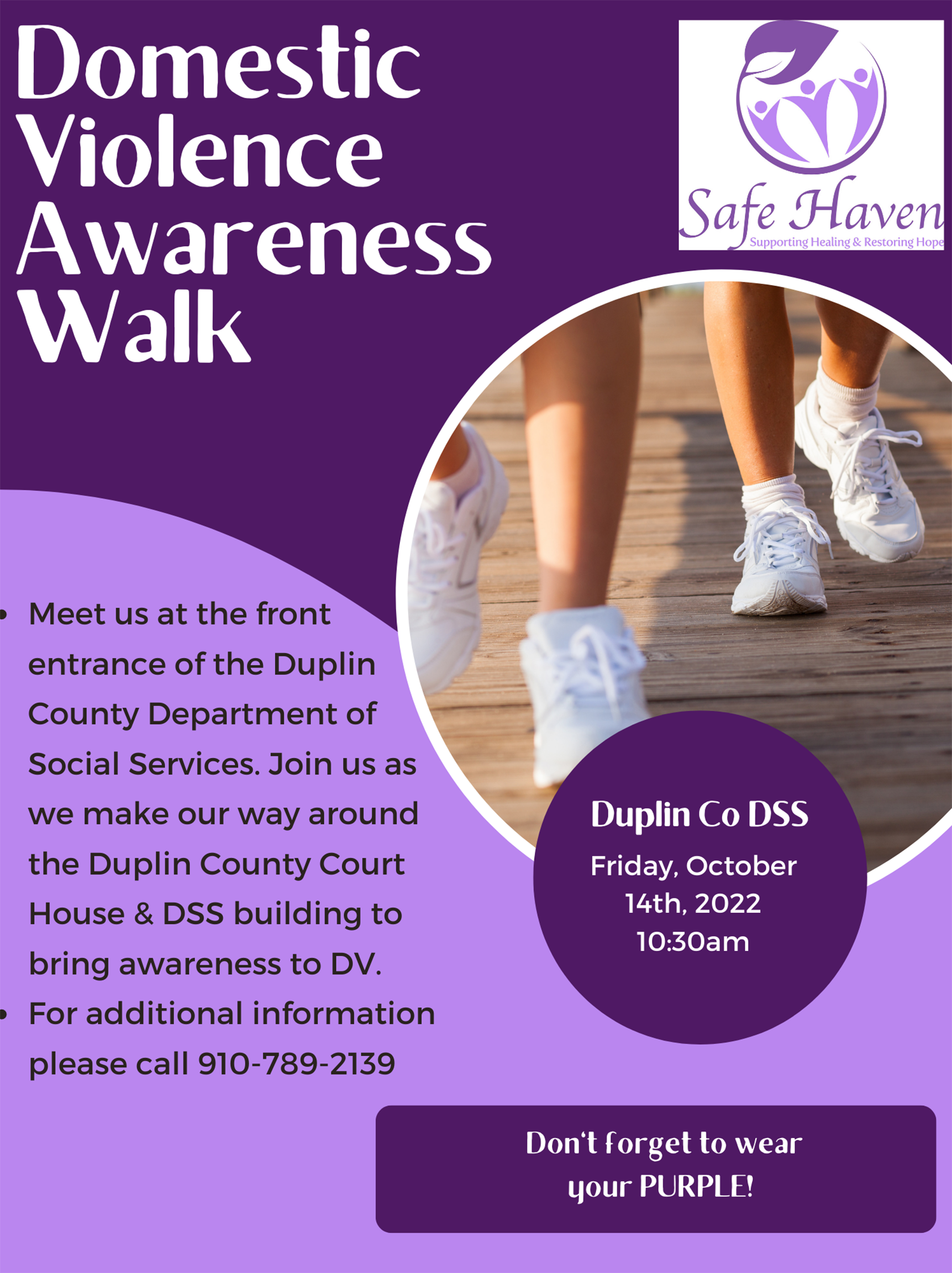 Lace up your sneakers and join us at the front entrance of the Duplin County Department of Social Services on Friday, October 14 at 10:30am. We are going to walk around the Duplin County Court House and DDS building to bring visual awareness to domestic violence.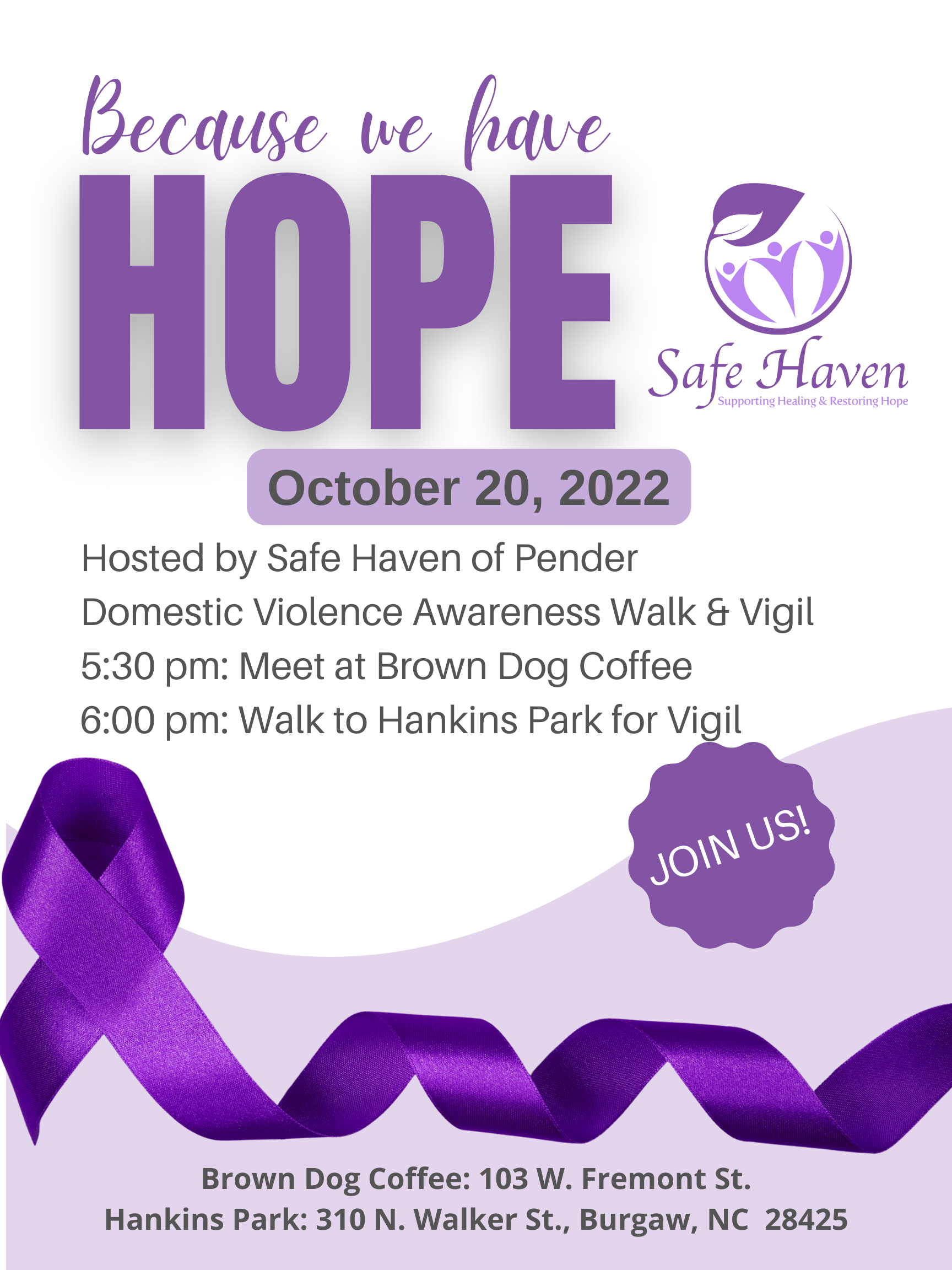 Join Safe Haven for our Domestic Violence Candlelight Walk and Vigil in downtown Burgaw on October 20. We will meet at Brown Dog Coffee at 5:30 pm and walk to Hankins Park for the vigil. Don't forget to wear your purple!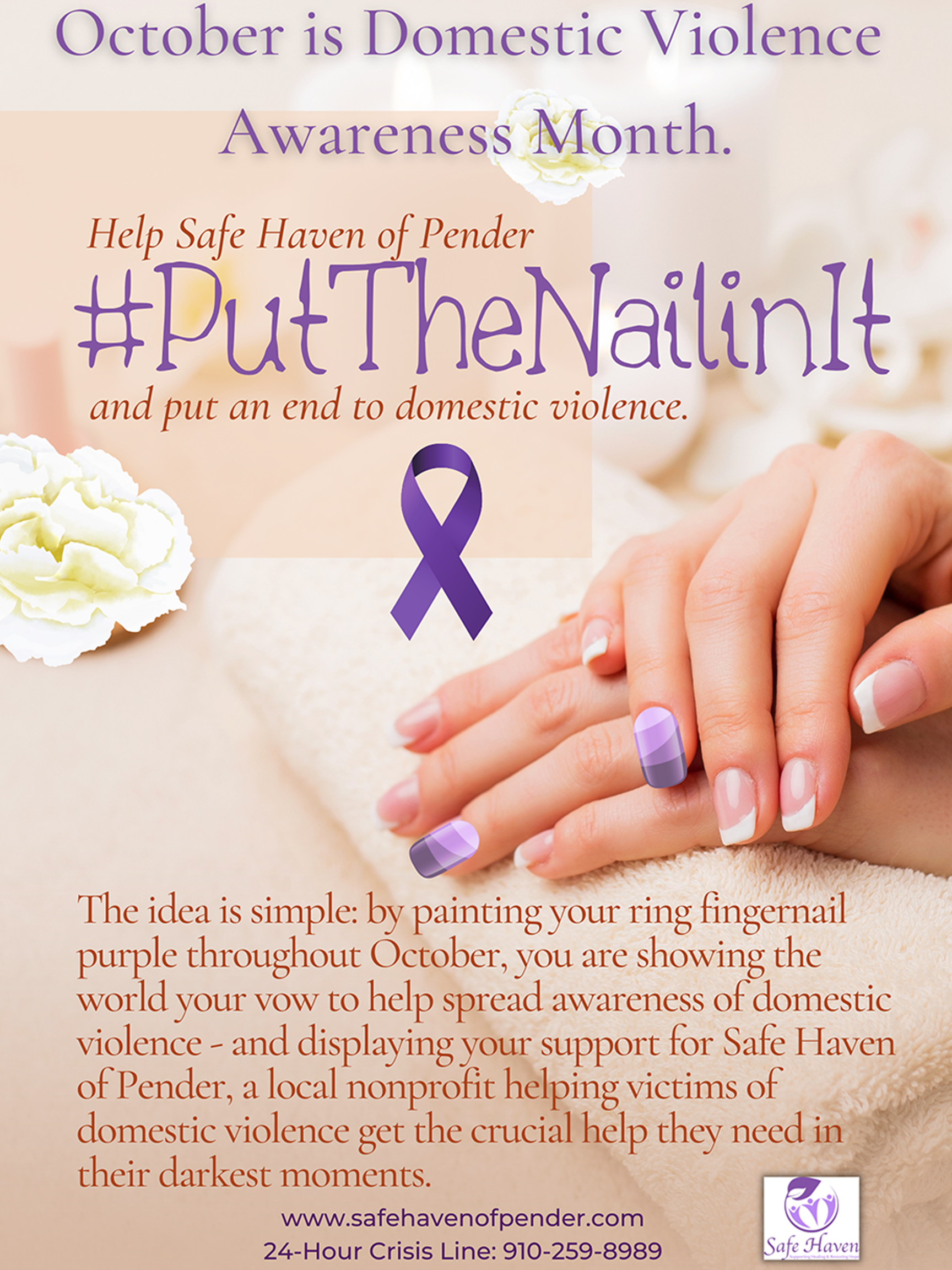 Created by Safe Horizon, the #PutTheNailInIt campaign inspires everyday individuals to do their part to end domestic violence, opening up conversations about this urgent issue. By painting your ring fingernail purple, you are vowing to help spread awareness of domestic violence. Painting the nail is also a sign that you have donated to Safe Haven to support programs and services for victims and survivors of domestic violence.
SUPPORT OUR EFFORTS BY LIGHTING THE TOWN PURPLE
Shine the light on domestic violence by displaying purple lights at your workplace or residence in October, which is National Domestic Violence Awareness Month. Our campaign invites area residents, businesses, and organizations to shine purple lights on their front porches, front window, or other public display the entire month to remember the victims and honor the survivors of domestic violence. The symbolic color of domestic violence is PURPLE. By donating a minimum of $5 to Safe Haven, you can receive your purple lights from Safe Haven and pick them up at our Empowerment Center in St. Helena, or at one of our thrift stores in Hampstead.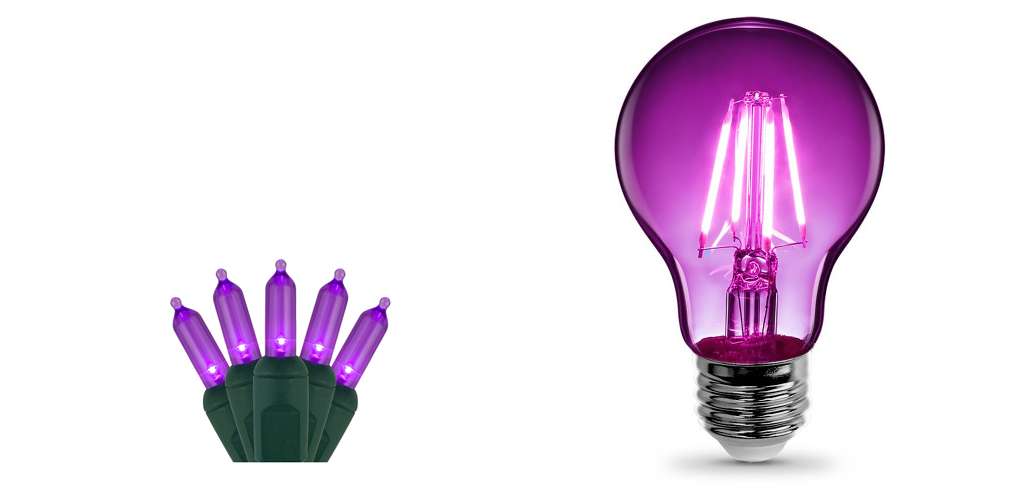 BUY A YARD SIGN TO SHOW YOUR SUPPORT
This October we are challenging our Pender County and Duplin County communities to become involved and more educated about domestic violence.  Please join Safe Haven of Pender in observing October's Domestic Violence Awareness Month by placing one (or more) of our signs in your yard.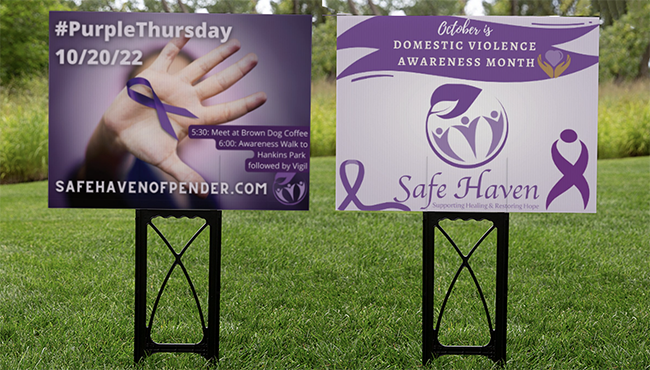 Residents and businesses may also purchase purple light bundles with lawn signs at:
Safe Haven Empowerment Center, 1411 Hwy 117 S, St. Helena, NC

 

28425

 

Safe Haven Thrift Store, 16406 Hwy. 17 N, Hampstead, NC

 

28443
WEAR PURPLE ON #PURPLETHURSDAY
We all have a role in promoting healthy relationships and building a healthy community. Join us in purple on Thursday, October 20. 
Wear Purple for Domestic Violence Awareness Day, also known as #PurpleThursday. It will be observed Thursday, October 20, 2022. Use wearing purple as a conversation starter and share why ending domestic violence is important to you. Share photos of you wearing purple with Safe Haven on Facebook and Instagram using the hashtags #PurpleThursday and #DVAM2022. 
Safe Haven of Pender has also prepared printable signage and photo props for you to download and print to use in your photos. Just click on the image below to download and/or print.
To physically show your support throughout October: